YouTube is currently the second largest search engine on the planet which generates around 92 billion page views every month. This platform is also able to provide enormous traffic to various blogs and websites. According to YouTube's data, 400 hours of video is uploaded every minute in this platform.
If you have quality content that can drive huge visitors, you can get numerous ways to monetize your content and one of the most popular ways is Adsense by Google.
But if own a non-music channel, uploading video is not just enough for generating enough views unless you are a big brand. But you can definitely gain huge visitors by optimizing your videos to rank higher on YouTube search.
If you have uploaded numerous videos but not gaining views, it may be the case that your content is not well SEO optimized. Your video content also needs to be SEO optimized just like your content.
Sharing on various social media platform is also one of the SEO strategies but we will discuss how to get organic traffic directly from search. By adopting good SEO strategy you can gain jaw-dropping visitors in no time.
So, let's go through some strategies that will help you to rank higher on YouTube and make a good amount of money from Adsense and other alternatives.
So before getting started, you should understand how YouTube's ranking algorithm works. There is no guarantee that you will rank higher organically even if you buy inorganic YouTube traffic.
View-time is one of the well-known factors in YouTube's ranking. Your ranking is likely to go down if viewers will start watching your videos and quits after the first few seconds. So, the most important thing to remember is to create creative and compelling content and catchy thumbnail for getting more CTR from embedded and related videos.
Now, let's dive into your actual topic. Here are lists of things that you should really care about. We will explore each in details.
Top Strategies To Rank Higher on YouTube
1. Video's Title- include keywords
People will get to know about your content by looking at your video title. You should select the title that perfectly matches the content inside your video. This makes your content friendly to viewers as well as to YouTube's algorithm for SEO.
You can take the advantage of YouTube as well as Google auto-complete feature. You can gain an idea about what people are searching for on YouTube and Google which will help to optimize your content accordingly.
If you try to type something on the search box, YouTube automatically suggests results for you. This is because those are the most searched queries related to your provided keywords.
Also, make sure to use Google's autocomplete feature to explore more keyword ideas.
Next, you can use an SEO tool for YouTube like TubeBuddy which helps you to research for a topic for your creating content.
Working of TubeBuddy:
• Firstly install TubeBuddy chrome addon.
• Now, click on the toolbar icon and go to " Keyword Explorer".
Now, you can enter a keyword or any topic that you want to make your content on and TubeBuddy will show you related topics along with potential traffic.
Select a relevant keyword and create a meaning video title including it. This makes your content likely to rank higher on YouTube search.
2. Description of the video
You should include a description of your content and the first couple of lines plays a huge role in your video's ranking.
One of the simple ways to do this is to include a search engine's auto-complete keyword phrases as your description. The video is likely to rank high if the first two lines of your description match the searched keywords. Next, you should also consider including long-tailed keywords in your video's description.
3. Naming your video content
Once you've created and edited your video content, you will render your video file as mov001.avi or abc.mp4. Before you upload it to YouTube, make sure to rename your file to selected_keyword.mp4.
This process tells the search engine to what actually your video is about because the search engine is not capable to look inside your video content.
You can have your video title as your file name which will help search engine to index your videos in an easy manner and this aids in ranking higher.
4. Optimization of existing videos with the help of search data.
This is a very excellent option to optimize your existing videos. Simply go to your YouTube's studio and go to Analytics>>Top videos.
Now, click on the videos that you want to optimize and the analytics page for your selected video will be displayed.
Click on the " Audience" and click " See More" under "Watch from Subscribers". Now, you will be taken to the page which shows all the queries that users are using to discover your video. Choose " Traffic Source and double tap on YouTube. Now, your job is to use those queries to optimize your video's title, description and tags.
If any of your videos is not explaining this queries part, move on for the next video.
5. Make sure to use Closed Caption (CC) features in your content.
It is always best to use closed caption (cc) features provided by YouTube. This process displays the text over your content which helps viewers to understand your content's narration better. Your content can be reached to many people of different languages as it can be translated too.
If not you can also consider uploading Transcripts. Transcripts contain the text of what is said in the video. Your voice easily gets converted into transcripts with the help of YouTube's algorithm. It allows you to write a closed caption of your own if your video doesn't contain any voice.
You video get another chance to get indexed faster on Google as it contains keywords written inside it.
Next, you can also include the Transcript into your content's description to make your video keyword rich and SEO friendly.
The tools like Rev can also be used to generate captions for your uploaded video content.
6. Keyword Research and Tagging
Using tags are other ways to make your content rank higher on YouTube. Here are some tips for placing tags:
• Place specific tags first. i.e make sure to include your specific keyword first.
• Place general tags. Now, include general tags and matching keywords. For example, if your specific tag is technical aide, your general tags can be " blogging tips", " teach blog" or something else.
In order to find the perfect tags, you can use tools like TubeBuddy. This is the trusted tool and is used by many popular YouTubers and is highly recommended for you as well.
While including tags make sure to include misspelling of your tags too. For example, if your keyword is " Organic Traffic" also include " Organnic Trafic".
Make sure to include plural tags for your singular tag too. Such as if your keyword is "Food and Vegetable" also include foods and vegetables and also separate keywords into different tags like " Food & Vegetable". Also, make sure to include long-tailed keywords.
Display Planner for Keyword search
Keywords are the heart of SEO and without keywords ideas, you cannot rank well on any search engine. Similar to Keyword Planner by Google it has Display Planner for getting relevant keyword for YouTube.
This tool gives the list of a large number of keywords along with insights to the searched keyword.
Download them into an excel and include them in your videos title, tags and description.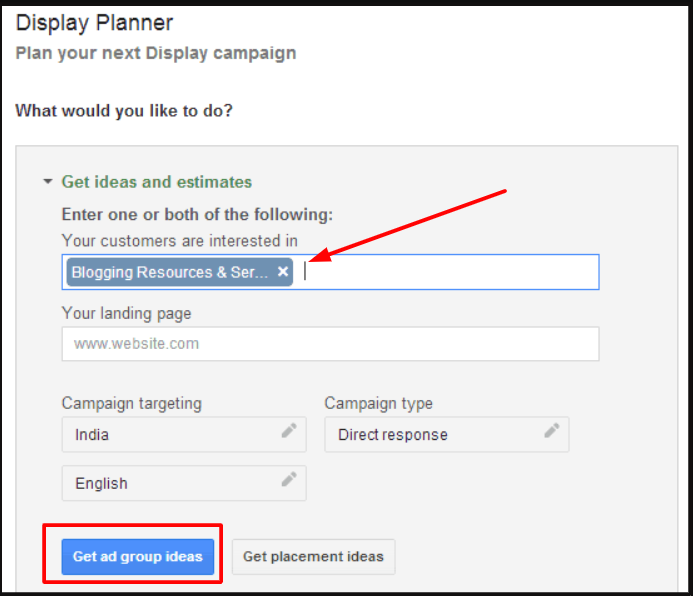 Some best Keyword research tool for YouTube
1. TubeBuddy
This is one of the most popular tools for conducting keyword research for YouTube. This is available as chrome extension as well as a mobile app for both Android and iOS. The interesting thing about this tool is that it provides insight of how difficult is it to rank for a particular keyword.
2. YouTube Studio
You can discover the keyword that is driving traffic to your video using your YouTube studio. You can also optimize your existing videos. Follow the simple steps below.
• Go to your YouTube's studio.
• Go to Analytics>> Reach.
• Go to Traffic source>> YouTube.
• Click on any keyword for revealing more data
Once you discover the keyword which is driving more traffic to your existing videos, place them in your title, description and tags.
How to create and change a custom YouTube channel URL?
How to create a YouTube channel and make money?
Beginner's guide on how to advertise on YouTube for promoting your business.